Take a bag of grated cabbage and one or more of these 8 easy salad hacks for a fresh take on cole slaw -- the summer classic salad and side dish.
Cole slaw should be on the top of every summer entertaining menu because there are so many ways to make this the star of the summer neighborhood picnic or back yard BBQ.  The cabbage in a classic slaw will stand up to temperatures that will make a green salad wilt in no time flat.  And let's face it, what's summer without a great slaw!
HACK ONE.  Add crunch with toasted nuts and seeds.  Walnuts, pecans, peanuts, cashews, almonds, sunflower seeds, sesame, poppy.  You name the nut or seed, and it has a place in the cole slaw universe.
HACK TWO. More allium.  Thinly sliced red onion, finely diced shallots or lots of chives.  Even garlic if that's your thing.
HACK THREE. Cheese.  Blue cheese with walnuts or pecans is a classic pairing.  Try feta with olives and lemon for a Mediterranean twist.  Havarti with fresh dill.  Cotija or queso fresco (for a dreamy slaw topping to a fish taco).
HACK FOUR. Add fruit.  Apples and grapes are the classics.  Why not mango, pineapple, even dried raisins, cherries or blueberries.  Cherry tomatoes!
HACK FIVE.  Substitute sour cream or Greek yogurt.  Substitute either for 1/2 of the mayo in your recipe.  It adds a certain je ne sais quoi.  Also mellows out the flavor of the mayo, popping the tastes of your add ins.
HACK SIX.  Fresh herbs.  Parsley, chives, chervil, celery tops, cilantro, basil, dill.  If it's green, it's good.
HACK SEVEN.  More veggies.  Shredded carrots of course.  Also green or red peppers or beets for color; jalepenos for the kick; jicama, broccoli, kale, why not?
HACK EIGHT.  Acid.  More vinegar, less mayo.  Think rice wine vinegar with soy sauce (and peanuts for an Asian flair).  Fresh lemon juice and zest, especially with fruit.  White balsamic vinegar to add a touch of sweetness for added veggies like broccoli.
Treat you cole slaw like a hearty lettuce salad, making variations of your favorite green salads, and let your imagination loose.  This salad staple will star on your summer table.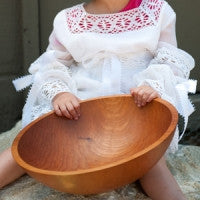 Large Cherry Wooden Salad Bowl 15" (Serves 6-8)
from $ 199.99 $ 239.99 from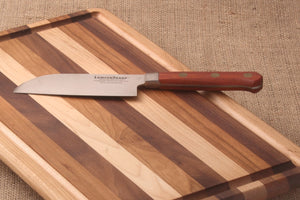 Kitchen Knife Perfect for Salad Greens
from $ 49.99 $ 69.99