Nothing could be simpler than using your Lazy Susan for a cheese board.
The round top of a Lazy Susan makes it simple to compose either a charcuterie board or a cheese board or a mash up of the two.  Since the top of the Lazy Susan spins, it simplifies the composition – there's no need to duplicate offerings so everything is within reach.  With a spinning top like a Lazy Susan everything on the board is "passed" or spun from guest to guest.
To compose your board, visually divide your board into quarters.  Arrange the cured meats in one corner, and the cheeses in another.  Place fruit and nuts in the third and crackers or bread in the fourth quarter.  Use small bowls for extras like nuts, olives, spreads and any other bits and bobs, especially the juicy ones like olives.
Our 16" Lazy Susan top will easily hold cheese and charcuterie for 6-8.  Offer your guests three different cheeses and two or three cured meats plus grapes and a sliced pear or apple.  Don't hesitate to add some nuts and olives for visual interest.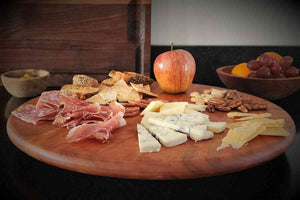 Lazy Susan Cheese Board
from $ 159.99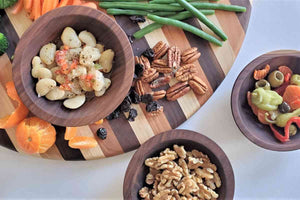 Wood Lazy Susan for Charcuterie and Cheese
from $ 129.99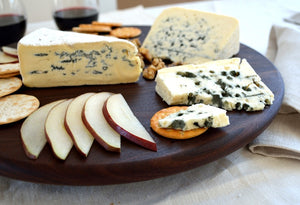 Serve a Crowd with Large Lazy Susan
from $ 159.99