Use your Lazy Susan for entertaining and discover a dozen ways or more to put a fresh spin on a classic!  This rotating wood board will serve as an icebreaker at your next party as it holds court in the center of your table with friends gathered round.
There are nearly endless ways to use a rotating Lazy Susan on your table or buffet for entertaining.  By its very nature as a spinning board, it's perfect for serving just about everything.  Corral an odd assortment of bowls and small plates on a Lazy Susan for a pulled together look.
And of course, the main selling point:  guests can easily serve themselves with a spin of the board.  There's no need to duplicate dishes as everything on the board is within easy reach with a turn of the board.
This wooden turntable serves as a great appetizer board.  It's a popular choice for a charcuterie board or cheese board.  Here are some of our favorite ideas for composing a fabulous charcuterie board when entertaining.
It's a fun idea to serve dinner by offering up a grazing board on a Lazy Susan.  Just pick a theme as simple as pizza or Taco night or as elaborate as an elegant French dinner, and your Lazy Susan will be a helpful assistant.
Use a Lazy Susan, or even two, on the center of the table if you're hosting a sit-down meal. The Lazy Susan will help guests reach for shareable items placed in the middle of the table.  .
Since most tables range from 36" to 44" in width, our 16" Lazy Susan will fit in the center of the table and hold bowls for side dishes or condiments. No reaching over Uncle Sam for the salt and pepper!  They'll be within the reach of an easy spin.
We love the idea of offering guests dessert on a Lazy Susan.  In this day and age of allergies and dietary restrictions, you'll just bypass a lot of issues by offering a selection of treats on a revolving tray like a Lazy Susan.  Set out an assortment of cookies, pastries and candy on a Lazy Susan.  Either use the tray as a serving tray or place small bowls and plates on the Lazy Susan to hold sundry sweets and treats.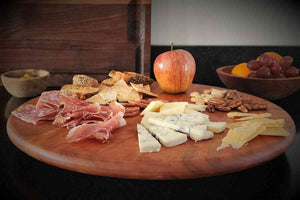 Lazy Susan Cheese Board

from $ 159.99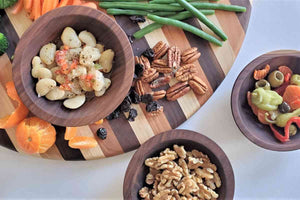 Wood Lazy Susan for Charcuterie and Cheese

from $ 129.99 from