The secret to this Brussels sprout salad lies with the vinaigrette. Sweetened with Maple syrup and brightened with fresh lemon juice and lemon zest, the dressing mingles with the earthy flavors of the sprouts to bring the flavors alive.
This vinaigrette is a variation of a classic and my favorite shallot-centered salad dressing. It's sweetened with a healthy dose of Maple syrup instead of the more usual pinch of sugar.
Since Brussels sprouts are a fall crop and our New Hampshire orchards are bursting with apples then, this salad takes advantage of these two fall favorites for a classic that will be a tasty addition to your table at any time of the year.
Salad ingredients:
1-lb brussels sprouts thinly sliced (by hand, on a mandolin, or a food processor)
1 small apple, finely diced
1/2 cup blue cheese, crumbled
1/2 cup walnuts, toasted and broken into bite-size pieces
Raisins, dried currants or cherries are colorful, but optional additions
Vinaigrette:
1 T finely diced shallot (I like to slice the shallot on a mandolin, making it easier to chop into a super fine dice)
2 T red wine or apple cider vinegar
2 T lemon juice (fresh is nice, then you'll have zest to add but a good quality store bought version works)
1 T Maple syrup
1 t mustard (Grey Poupon is my favorite brand)
8-10 T EVOO, more or less depending on taste
Freshly ground pepper and salt to taste
Add the diced shallot to a small glass jar along with your vinegar, lemon juice, and a few cranks of pepper. If time permits, let stand for a few minutes while the shallots soften and mellow.  Mix in the mustard and Maple syrup with a fork, then add 6 T of EVOO.  Cover the jar and shake vigorously to mix. Taste and keep adding olive oil until it matches your desired taste. 
Directions for the salad:
Trim the stems of the Brussels sprouts with a sharp knife. Use a mandolin to shave the spouts (or use a food processor). If you use a food processor, thinly slice a handful of brussels sprouts by hand for the texture they'll add to your finished salad.  Add the finely diced apple and dress the salad lightly with the vinaigrette. Mix in the blue cheese at this point unless you're serving on the side.
Best if the salad can stand for several hours so the flavors mingle. Add the toasted walnuts just before serving so they keep their crunch or serve in a small bowl on the side.
This salad pairs particularly well with turkey and pork.  Add some bacon to the salad to make a meal of it!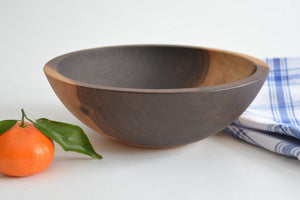 Salad and Serving Bowl Walnut 10"
from $ 89.99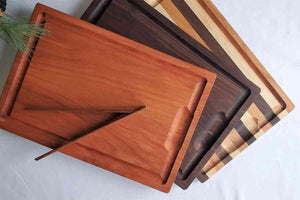 Personalized Charcuterie Board Choose Cherry, Walnut, or Multi-wood
from $ 109.99