Nothing says summer quite like a juicy watermelon.  And watermelon just happens to pair beautifully with the tomatoes that are so plentiful in my kitchen garden during the month of August.  This is an easy-to-make salad that is at home on your table any day for lunch or dinner.  And it's a colorful addition when you're entertaining, adding a bright fresh note.  
To make:
Cube fresh watermelon and halve fresh cherry tomatoes (about half a cup of each per person).  Crumble feta or goat cheese on top, add fresh herbs (chives, parsley and basil are a nice combination, but don't forget mint, oregano and thyme).  For a salad dressing, try a splash of olive oil (optional) and a squeeze of fresh lemon or lime. Finish with cracked black pepper and sea salt.
Or try this variation for company -- to be served on a cutting board for an impressive array.
Alternate slices of tomato and watermelon, add feta cheese and purple basil, top with a grind or two of fresh black pepper, a pinch of salt, and finish with a drizzle of olive oil and splash of white balsamic vinegar or fresh lemon juice.  Just before serving, top with a few chopped nuts (toasted walnuts or pistachio are favorites) to add a little crunch and color.   
Could summer be any more delicious than this?   And if served on a wooden cutting board  like this one, serving and clean up couldn't be any easier!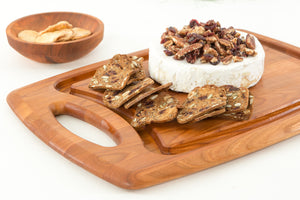 Cherry Cheese Board Reversible Cutting Board
from $ 89.99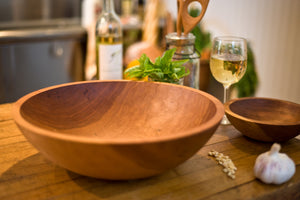 Cherry Wood Salad Bowl 12" (Serves 4) Free Shipping
from $ 129.99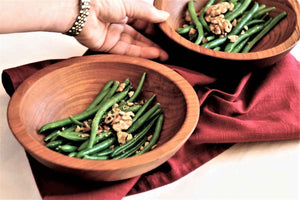 Salad and Serving Bowl Cherry 8"
from $ 49.99