Pistachios are having a moment and well they should with their sweet, salty taste profile.  I like them roughly chopped and added to just about any salad, but they are a great addition to this orange and fennel salad. 
The fennel and blood orange slices looked so inviting laid out on a wood cutting board as I was prepping the salad, that I decided to serve the salad arrayed across its surface.  It made for an easy serve yourself for lunch with friends. 
While shopping I spied the blood red oranges and knew their deep color would contrast beautifully with the pale green fennel and deeper green salad greens.  Navel oranges are just fine in this salad, really the standard.  I like the crunch of nuts and taste of the pistachios to complement the sweetness of the fennel.  Pine nuts also work well, a classic Mediterranean pairing.  Add chopped pitted olives as Mindy Fox does in her version of this salad recipe in her cookbook salads: beyond the bowl.
When you have a salad like this one, which is really a composed salad, it is common sense to layer your ingredients on a wood cutting board with deep juice rings like this one, to catch any extra dressing and an errant pistachio nut or two.  
Salad ingredients (4 servings):
1 large fennel bulb, cored and thinly sliced, fronds set aside for garnish
3 blood oranges, sliced, with juice reserved
1/4 cup pistachio nut kernels, lightly toasted and chopped
3-4 cups mixed salad greens
Vinaigrette ingredients:
1/2 shallot bulb, finely diced
1/2 t. mustard
2 T. white wine vinegar
1 T. reserved orange juice
6 T. olive oil (a citrus flavored oil if you have one)
Salt and pepper to taste
Soak the diced shallot in the wine vinegar and orange juice to soften while you make the salad.  Then mix with the remaining ingredients in a shaker jar.  Super easy to use a jar with a top, or whisk all the ingredients together in a small bowl.
To make the salad:
With a sharp knife, remove the peel and white pith from the oranges, and slice 1/4 inch thick, reserving the orange juice for the salad dressing.  Remove the stalks and frond from the fennel and core.  Slice into thin strips, a mandolin works well for this.  Combine the fennel with about 1/4 of the vinaigrette.  Toss the salad greens with the remaining dressing, reserving a tablespoon, then arrange the greens on a wood serving board.  Layer with the blood orange slices and top with the fennel.  Drizzle with the remaining vinaigrette and finish with the  toasted, chopped pistachio nuts.  Healthy, delicious and easy to make.  Enjoy! from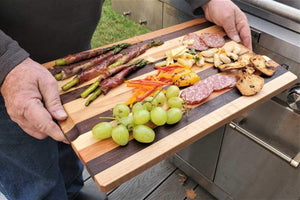 Wood Cutting Board Famous Design Hides Knife Marks
from $ 109.99