The guide to choosing the best wood for a Caesar salad bowl starts with the wood, and how the bowl will look on your table, and in your kitchen. Other guidelines to consider are how many people will you usually be serving, and can your wood bowl stand up to the wear and tear of many meals full of salads for friends and family.
Let's start with the best wood choices.
Cherry is a hardwood with beautiful grains that creates eye candy. Cherry mixes and matches with a variety of tables, counters, and decor. It's the traditional choice for a bowl, especially in New England farmhouse kitchens.
Walnut is a hardwood whose dark hues match up to urban industrial styles as easily as to the white granite countertops of a timeless kitchen setting. Since walnut trees are prolific in the Southwest and West, you'll find Walnut gracing many Texas and California homes.  
Maple is a hardwood, usually found with a uniform blond appearance. This darling of the 80s has given away to Cherry and Walnut, but it still has its place as a neutral or natural choice.  And we offer unusual Maple wood bowls.
Beech still qualifies as a hardwood but is lower on the hardness scale.  It lack of color makes it great for many uses, but not for a handsome salad bowl out on display.
Ash is a softer wood and not suitable for the wear and tear of a salad bowl, and requires a coating or sealant for kitchen use.
Wood is the traditional choice for a Caesar salad because its the perfect medium against which to grind the garlic, salt, and anchovy into the perfect paste and base for an outstanding Caesar salad dressing.  Pottery, ceramic, and glass bowls just don't work for this purpose.
Sealed, coated, varnished, stained, and shellacked bowls may not be food-safe.  We recommend a natural finish, no dyes, stains, or chemicals for the preparation and serving of your salad.
We love Olive Wood but most olive wood trees don't grow to a size that's conducive to turning a large, solid bowl.  Acacia wood, bamboo, and many fair trade or eco-friendly bowls will be too soft for a superior quality salad bowl.  
And lastly, how many people will be seated around your table?  The creation of a Caesar salad cries out for a celebration, especially if you have perfected the art of breaking an egg into your bowl with a one-handed flourish.   A 12-inch bowl is for a romantic evening and salad for two.  A 15-inch bowl says your two best friends are joining you, and a 17-inch bowl says party.  One big Caesar salad bowl is less expensive than an evening out, and one of our solid wood bowls will last for a lifetime of meals.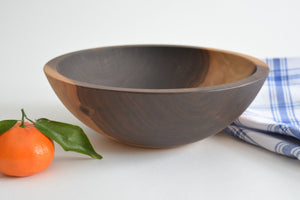 Personalized Walnut Salad Bowl in 4 Sizes
from $ 149.99 $ 229.99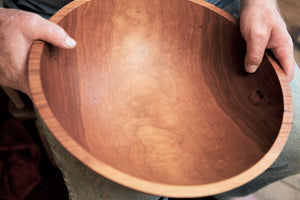 Personalized Cherry Salad Bowl Available in 4 Sizes
from $ 129.99