The best quality wooden spoon will be made from a solid, natural wood like Maple, Cherry, Walnut, or Olive wood.  We like the actual color of the wood to shine through, not a Cherry or Walnut stain on a Pine wood spoon or one made of Bamboo grass and glue. These premium hard woods also allow an artisan to craft a durable, sturdy spoon of the highest quality. Softer woods won't hold up over time and more easily absorb moisture, stains and odors from kitchen use. The dense, tight grains of a hardwood like Cherry and Walnut are always the first choice of a spoon maker, and along with Maple and Olive, should be the choice for building a long-lasting collection of helpful wooden kitchen tools and utensils.
A good wooden spoon is also carefully pre-seasoned and finished with fine polish to resist stains and fight dryness.  Natural ingredients like beeswax that deeply penetrate the pores of the wood is the ideal choice. Wood spoons require care and conditioning to look their best.  But with a modest amount of attention, a quality wood utensil will last for years.
When someone asks me which wood utensil is the best, I know it's an inherently personal decision.  If the spoon feels right to you, if it sits comfortably in your hand, and if you get a little spark of joy every time you reach for it, then you've found the right wooden spoon. 
And most important, it is helpful if the spoon does the job you've chosen it to do which is why our wooden utensils are designed with both form and function taken into careful consideration.
Stirring is a spoon's primary task. A spoon should have a wide surface area to move a significant amount of food around a pot with the least amount of effort.  It's best if your stirring spoon has a long, sturdy handle for your deepest pots, and above all if the wood handle feels good in your hand. We like a square tapered handle; some folks prefer round.
Scraping is necessary to loosen food as it cooking off the bottom of the pot, and for deglazing the browned bits from the bottom of the pan when making a sauce or braise so a sturdy spoon that won't scratch or damage your cookware is important.
Tasting as you go is a necessity.  A good spoon will have a bowl large enough to lift up liquids and solids without over-spilling the edges, but not so large you can't take a taste.
Serving up your food once prepared it an important task for a spoon.  We like functional objects, and if they can do double duty, cook in the kitchen and serve at the table, well then.
You can zero in on our best-loved wood spoon options here that have earned top ratings from other home chefs like you. Though humble and stalwart, a wooden spoon can make a huge difference as you cook in your kitchen.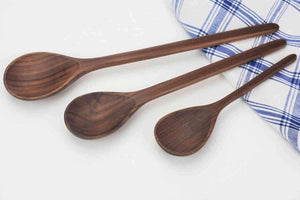 Walnut Cooking Spoons
from $ 89.99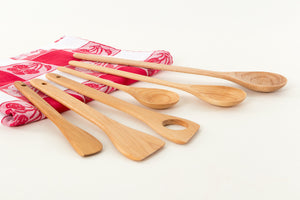 Wood Spoon and Wooden Spatula Set 6-PC Right or Left-Handed
from $ 129.99 from