The best wood for a chopped salad bowl is one of the traditional hardwoods. These are Maple, Cherry and Black Walnut.  And you want an all natural finish.  You won't see a wood bowl with a stain to add color in the interior of a bowl on our website.  We prefer an all natural, food-safe finish, especially for a chop bowl where you will be chopping greens and ingredients right in the bowl, and then serving them.  So best to choose a North American hardwood.  There is a reason why the best bowls are made from these woods.
From time to time, inexperienced wooden bowl turners will use beech (a Plain Jane semi-hardwood) that is frequently tarted up with a light or dark stain or left "natural."  Looks fine out of the box but after several chopped salads or Caesar salads, you will be asking yourself "what did I do wrong?" You messed up in the beginning, starting with the wrong wood bowl.
Staining wooden bowls makes them look a bit more interesting. If you're looking for a working kitchen wooden bow, l never choose stained. Stained wooden bowls NOT RECOMMENDED as MOST stains are not food safe. The act of chopping will send the stain into your food and the chopping mars the stain. Complaints are frequent.
Please do not substitute a bamboo bowl for hardwood if you're looking for the best wooden chopped salad bowl. Glue is used in all bamboo cutting boards and wooden bowls. The glue is not food safe. In fact, bamboo is in the grass family not a tree species. It grows fast, is easily replaced and is green. The truth is that the grass is harvested, pounded into a pulp and glue is added as part of the final step of pressing the pulp into "wood."
For food prep, use a wood bowl, preferably one made from a hard wood like Cherry, Maple or Black Walnut.  And use a natural, food safe finish like our Iddo Kimball Wood Rub and Preserver to protect the bowl. from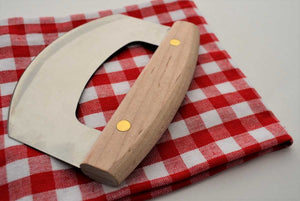 Mezzaluna Salad Chopper Curved Blade Traditional Mezzaluna Design
from $ 39.99