Parties, Shopping, Entertaining, Gift Giving. It's all very exciting. Gatherings of family and friends: colleagues at the office, meeting friends after-work, family coming for Sunday dinner. Food, fun, presents, merriment. It doesn't get any better than this. Or more stressful!
One of the maxims I've learned to live by over the years is that unless you're talking about a gift for a child (for whom this holiday season is still magical) there's really no such thing as the perfect present.  So no reason to go insanely overboard with worry and anxiety or into hock for a too-expensive gift. The Perfect Present? I don't think so. Thoughtful, yes. Perfect, maybe not. A wooden chop bowl for the cook. A wood carving or serving board for the friend who loves to entertain.   
Here are some other tried and true maxims and tips to make your holidays merry and bright.
Get a theme and stick with it.   Black and white newsprint with the contrast of bright red ribbon for wrapping presents. Also to decorate the tree. There are a lot of DIY tutorials for paper flowers, ornaments and wreaths online. Fun with the kids on a cold afternoon. We also like potato stamps and brown paper wrappings. 

It's okay to keep it simple. Change out all your candles for red ones, or silver or blue. Add a red (or silver or blue) bow here or there or someplace unexpected– around the top of a lampshade or top of a picture frame. A bowl full of ornaments on the table will add a little sparkle. And a branch or two of fresh greenery will add the scent of the season (as will a bowl of oranges and lemons studded with a few cloves).

Welcome folks to your home with a signature drink (mulled cider, ginger ale) or cocktail (cider with cinnamon schnapps and vodka). Make the drinks festive with a candy cane stirrer. A little something special to set a warm and hospitable tone.

Keep the food simple. Set out an array of small wood bowls filled with easy nibbles. Nuts, olives, chips, cheese coins, carrot sticks. Add a selection of artisanal cheeses on a large wooden cutting board or lazy susan. Simple and delicious.

Send just a few cards with heartfelt messages to your family and friends who live far away. And feel comfortable making them New Year's cards, too. I love receiving those updates on who's up to what, so taking the time to pen a few words means a lot more to the recipient than an expensive card with no personal greeting. 

Don't be embarrassed to receive a gift that you aren't prepared to reciprocate. This is one time it's okay to assume the gift giver genuinely wants to give you a gift, and doesn't expect one in return. Just say, "How lovely and thoughtful of you! You'll have to forgive me for not anticipating that we were going to exchange gifts this year."

That said, it's not a bad idea to have a few small "universal" presents or gifts on hand. A handmade wood cheese spreader, a bottle of good olive oil, some local jams or honey, a lovely pair of candles. They can stand-in as hostess gifts after the holidays. And lastly, and most importantly

Stop and smell the proverbial roses (or real ones that will make a great decoration in a vase decorated with a big holiday bow!). Remember to take a break. Go to the gym. Take a bubble bath. Take the dog for a long walk, preferably where you can admire nature -- a proven stress reducer. from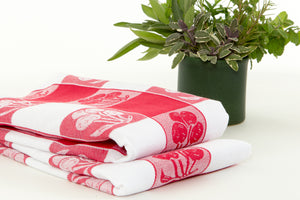 Red Cherries Dish Towel
from $ 9.99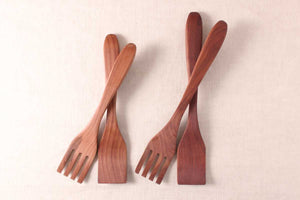 Wood Salad Servers Cherry in Two Sizes
from $ 39.99