Farro adds a nice chewy element to this green salad, filling up my salad bowl with a nutricious and tasty salad for lunch or dinner.
All of a sudden it seems like farro is everywhere. Never having tried it, I found a recipe in one of my favorite salad books, Raising the Salad Bar by Catherine Walters. Since farro is an ancient grain originating in Italy, I thought I would add it to a salad with Mediterranean roots.
Farro has a mild nutty flavor and big chew (a little chewier than brown rice to which it is sometimes compared) which makes it a great addition to a "salad for dinner" or lunch salad. Rich in protein, fiber and Iron, farro - just like pasta or rice - can be mixed with any number of vegetables, herbs and seasonings to create a hearty, nutritious and delicious salad.
Salad Ingredients Yield: 6 servings (about 2 dinner sized salads or 4 lunch or side salads).
1 cup pearled farro, rinsed and cooked in 1 cup vegetable broth and 2 cups water
4 cups baby baby Romaine leaves, torn or chopped into bite-sized pieces
½ cup Cherry tomatoes, quartered
4-5 Green onions, white and light green part of the stalks
½ large red pepper, roasted (fresh pepper works just fine, as does green pepper)
1/3 cup sliced Black Olives
Feta cheese, crumbled (Parmesan would make a good substitution)
Vinaigrette
2 T. white balsamic vinegar
6 T. Olive Oil
3 cloves garlic, roasted then chopped to a fine paste (raw garlic works just fine)
½ t. honey (opt.)
Juice from one half lime (opt.)
Salt and pepper to taste
Chives or other fresh herb, chopped
Directions
Cook farro according to package directions, substituting vegetable broth for some of the water to add a little extra flavor. Roast garlic and red peppers in olive oil for about 20 minutes in a 400-degree oven (best if you have some extras from dinner). Mix Cherry tomatoes and green onions into the cooked farro. Mix vinaigrette ingredients in a small bowl and add to farro to desired taste and "wetness." Top greens with farro salad. Top again with feta, black olives and chives if desired.
Loosely adapted from
Raising the Salad Bar
by Catherine Walthers.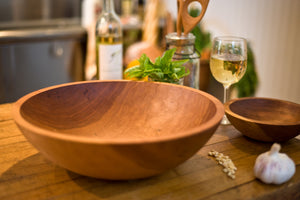 Cherry Wood Salad Bowl 12" (Serves 4) Free Shipping
from $ 129.99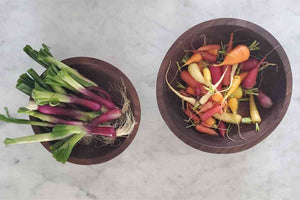 Salad and Serving Bowl Walnut 8"
from $ 59.99 from