Of course, all that charm and appeal can fall by the wayside if the bowl starts to look shoddy, warp, or show cracks. To avoid this happening, all it takes is a little time, effort, and understanding these five secrets to properly caring for your wooden bowl.
1.  All Wooden Bowls Require Seasoning
Seasoning is the act of preserving the wood on your bowl. It's like adding a fine protective layer that will ward off things like moisture, heat and everyday wear and tear. This should be done as soon as you get your wooden bowl. You can use natural mineral oils found in the market but for the best solution, we recommend the natural wood preservers and conditioners that we use on our own bowls.
2.  Wooden Bowls Are Not Dishwasher Safe
Sure you can throw your wooden bowl in the dishwasher after using it but if you do, you'll be soaking the wood in an excessive amount of water, which can cause the fibers to warp. The harsh detergents used in most dishwashers will also aid in the decay of the wood over time so instead you should always hand wash your wooden bowl with warm water and mild soap. Be sure you thoroughly towel dry the bowl and not air dry as leaving the wood with water on it will allow the fibers to absorb the moisture­-and you don't want that.
3.  Heat is Not a Friend of the Wooden Bowl
If you're thinking of throwing your wooden bowl in the microwave to nuke last night's leftovers you might want to start looking for a new one. Wood does not fare well with heat, especially extreme heat. Believe it or not, we've even heard of people putting their wooden bowls in an oven, only to watch them get ruined. It's also a bad idea to leave a wooden bowl in direct sunlight for long amounts of time as the heat and light will dry out the bowl making it more vulnerable to cracking, warping and splintering.
4.  Better Quality = More Longevity
Ok so maybe it's not so much a secret but it's something that too many people ignore when buying a wooden bowl. If someone told you that for a tiny bit of extra cash you could buy a car that would perform better and longer than another less expensive one, you'd listen right? Buying a cheap wooden bowl is not only opening yourself up for low quality that will be harder to care for, you could be using a bowl that is non-food safe for your family. Many of the cheap, mass-produced bowls coming over from across the seas are manufactured using non-food safe materials and glue. A good quality handcrafted wooden bowl using strong woods like Maple, Cherry or Walnut will save you money and health in the long run because it's food safe and you won't have to replace it every year. Better wood means longer life, easier care.
5.  Like Anything Worth Keeping, Wooden Bowls Require Upkeep
Following all the steps above will most definitely prolong the life of your wooden bowl but to ensure it continues to be a part of your kitchen, you'll want to re-season or preserve your bowl every so often to keep a fresh protective finish on it at all times. Some do this every month. Some do it every year. The more often you do it, the more sure you can be that your wooden bowl will be around for many years to come. And if normal wear and tear has taken its toll and the bowl appears a little dull, you can always lightly sandpaper the surface to reinvigorate the wood. This is a great way to get new life out of an old bowl. Be sure to re-season after though so you get that protective layer back on.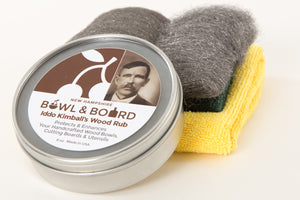 Wood Rejuvenating Kit - Wood Care for Neglected Bowls and Boards
from $ 34.99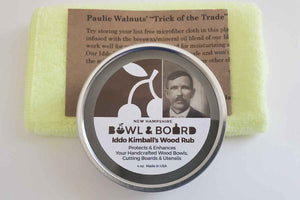 Wood Conditioner Lasts 4 Times Longer (Free Secret Weapon)
from $ 16.99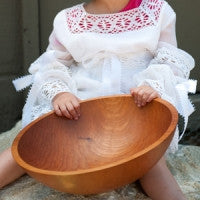 Large Cherry Wooden Salad Bowl 15" (Serves 6-8)
from $ 199.99 $ 239.99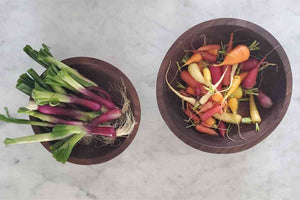 Salad and Serving Bowl Walnut 8"
from $ 59.99 from