Fresh new potatoes with green and yellow beans are the underpinning of a fresh salad nicoise, vegetarian style.
Ingredients:
5-6 small new potatoes, boiled and sliced 1/4 inch
2 hard boiled eggs, quartered
1/2 lb. green or yellow beans, steamed and cut into 1/2 inch pieces
salad greens
Dressing:
3 T good quality mayonnaise
2 cloves garlic, smashed
1-2 Tbs. mixed herbs, e.g. chives, tarragon, dill, basil
Directions:
Array the salad ingredients on a bed of fresh greens and season to taste with freshly ground pepper and salt.  Mix the garlic clove and herbs into the mayonnaise and add a dollop to the salad.
When the ingredients are this fresh, there's not much to do but let the vegetables and potatoes shine with just modest adornment from the dressing.
Enjoy!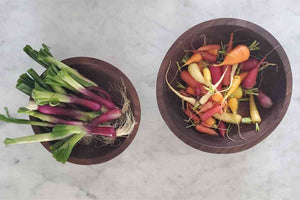 Salad and Serving Bowl Walnut 8"
from $ 59.99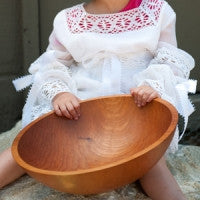 Large Cherry Wooden Salad Bowl 15" (Serves 6-8)
from $ 199.99 $ 239.99 from