Late wedding and anniversary gifts, what do you do?  We have three simple rules.
You can be the most thoughtful, conscientious person around and you still may  find yourself washing the dishes some night only to realize "Oh no, I haven't sent the wedding gift!" Hey, it happens.
 
There's lots of speculation out there on what is right or wrong when it comes to giving a late wedding gift. It might be because the rules seem to keep changing. And then again, maybe it's just because everyone has his or her own ideas of what's appropriate and usually spreads it like gospel. Luckily, there are three simple rules you can use when giving a wedding gift late. Follow these and you won't be avoiding anyone at the next family reunion.
 
1) Knowing how late is late
 
For as long as I could remember it was widely acceptable to give someone a wedding gift at least a year after the wedding. Nowadays, this time frame seems to fluctuate between the previously accepted yearlong timeline to anywhere as little as a few weeks after the wedding. So which one is right?
 
If you subscribe to the belief that you have up until a year to give your gift, when it comes to modern wedding etiquette, you're quickly becoming the minority. If you think about it, a year is not just a long time for someone to wait for a gift it's a long time they have to wait to write a thank you card. Plus, it's more time for you to forget. A year easily becomes another year and pretty soon it's a decade later and you'll be racking your brain to figure out why that same couple is giving you the evil eye from across the room.
 
If you ask most people these days, it seems the most acceptable cut-off date is around three months. Give your gift within that time span and you should be good, at least in the eyes of modern society. If it's already been three months, you'll simply want to send the gift as soon as you can. Adding a short, sincere note apologizing for the delay can't hurt.
 
If late is an understatement and you happen to be sending a couple a wedding gift that's long overdue, it's important thing to keep in mind is that sometimes the when really doesn't matter. Most reasonable people are just going to be happy and appreciative that you gave a gift at all. In fact, they may even be glad you waited. Who doesn't like an unexpected gift, right? In other words, try not to beat yourself up if you forgot. The old adage, "Better later than never" still applies.
 
2) First Stop: Registry. Second Stop: Essentials
 
Almost every couple that gets married has a registry that should be up for a while after the wedding. Not only is this an easy way to take "give late wedding gift" off your to-do list, you won't have to race all over town trying to figure out what to get. If you're comfortable reaching out to the couple, you can always ask them if there is anything on the list they don't need anymore. Chances are they'll be touched you asked and it's also a great way to let them know your present is soon to be accounted for.
 
If you're not using a registry or if it's been removed, make sure your gift is thoughtful and useful. After all the same rules apply whether your gift is late or on time. If you're not sure what to get, you can always fall back on the essentials. Things like kitchenware, linens, glassware and unique gifts like handcrafted wooden bowls and cutting boards are popular wedding gifts and always at the top of people's list. Cash of course, is also an acceptable choice.
 
If you're wondering if a late gift needs to be more expensive or thoughtful by usual standards, there is no general rule that says it has to but I recommend you use your own judgment on that decision. Remember, the goal of your gift is to make the couple happy and show them how happy you are for them. If money is tight and you know someone else that hasn't given a gift yet, it's always a good idea to join forces (and more importantly funds) so you can give the couple a gift so nice, they'll be too pleased to think about it being late.
 
Some people like to give charitable donations as a gift. It's my practice to stay away from this kind of gift unless the couple has requested it or it's an organization that means a whole lot to them. This is especially true if the gift is late where you want to minimize the chances of offending the couple.
 
3) Let logic and instinct be your guide
 
Rules of etiquette are great guidelines for us to follow but they are just that, guidelines. No one situation is the same and you are the one who knows the people you're giving to. Sometimes due to personalities and circumstances you need to ditch the rules and play your own game.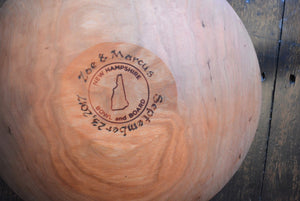 Personalized 15" Cherry Wood Salad Bowl Gift
from $ 199.99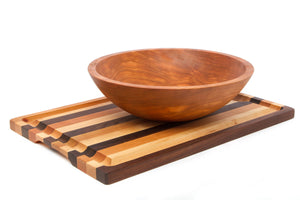 Cut Carve & Serve Board with Cherry Bowl - NH Bowl and Board Exclusive
from $ 209.98 $ 269.98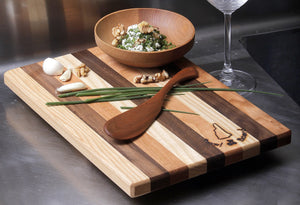 Best Affordable Anniversary Wedding Wood Gift with Free Spreader
from $ 64.99 $ 79.99