How Do I Care for a New Wood Item?
Wood is easy to care for, but it does love a little TLC to keep looking its best.
Wash your wooden ware items in warm, not hot, soapy water using a mild dish washing detergent. Towel dry.  Finish with an application of our Iddo Kimball's Wood Rub or quality food-safe wood cream and gently buff using a lint free cloth or microfiber.   
A brand new bowl or board may want to be treated with Bowl and Board Rub every week or so for the first  month. And then about once a month thereafter depending on use.
How Do I Remove Stains from My Cutting Board?
To clean and remove stains, apply salt to the stain and rub with a cut lemon or lime using a damp sponge or Scotch Brite pad. Limes also clean and disinfect.
How Do I Deep Clean My Cutting Board?
To clean and disinfect wooden ware, apply a 50-50 solution of water and white vinegar or hydrogen peroxide (3% solution) using a clean cloth and let stand for 5 minutes. Wash and dry.
If your wooden ware feels sticky to the touch, wash your wooden ware in hot, soapy water and use the abrasive side of a sponge, kitchen brush or Scotch Brite pad…to scrub away at dirt and oily residue. Also try a paste of salt and lemon juice.
How Do I Remove Sticky Build Up?
If you have stubborn built up residue, after washing and scrubbing your woodenware with a kitchen brush or Scotch Brite pad, let dry. Then, following the grain of the wood, use a fine sandpaper or fine - medium steel wool pad, lightly apply pressure to the area needing cleaning. Apply more pressure as needed as you go along, but lightly feather the edges of the cleaned area to blend into the untreated area of the wood. Only sand the entire item if you must.
How Do I Remove Scratches?
If you are removing scratches from a bowl, butcher block or board, do consider that wear and tear -- the "scars" of honest use -- add character!
Start with a medium grit sandpaper, try to follow the grain of the wood and sand the scratched area, being careful not to go too deeply into the wood. Move to a lighter grade sandpaper, medium steel wool pad and lastly to a fine steel wood pad (00, 0 or 1). For a superfine finish, use a Scotch Brite pad.
How Do I Apply Bowl and Board Rub?
Using a lint free cloth or microfiber cloth, apply a thick application of Bowl and Board Rub. Let the Rub absorb into the wood surface for 20 minutes or more (no harm in letting the excess Rub sit on your wood item), and remove any excess by rubbing with a microfiber or clean lint free cloth until you have a slight sheen. Reapply about once a month or when your wooden ware looks or feels dry to the touch.
Cautions
Beware standing water and bright light! Do not let wooden ware sit in water, do not clean using a dishwasher and do not let wet ingredients sit on the wood overnight. Water will over-moisturize your bowl or board, and this can lead to wood splitting.
Direct sunlight will dry out wood and may also lighten wood, especially Cherry. Wood is best stored in a cool, dry cupboard or on a shelf away from bright light.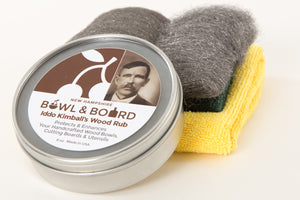 Wood Rejuvenating Kit - Wood Care for Neglected Bowls and Boards
from $ 34.99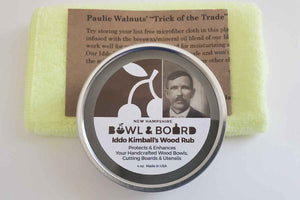 Wood Conditioner Lasts 4 Times Longer (Free Secret Weapon)
from $ 16.99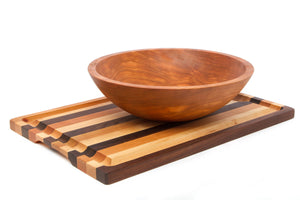 Cut Carve & Serve Board with Cherry Bowl - NH Bowl and Board Exclusive
from $ 209.98 $ 269.98