The amount of people making the change to vegetarian and vegan seems to grow each year. As someone who believes a good chopped salad is pretty tough to beat, I can see why. At New Hampshire Bowl and Board, we carry a huge variety of wooden gifts perfect for vegans and vegetarians. 
 A beautifully-handmade wooden salad bowl is perhaps the most quintessential gift for the vegan or vegetarian in your life. Not only are you letting them know how much you care by giving them an original handcrafted gift of heirloom quality, you're also celebrating their choices and beliefs with a wooden bowl they will be able to use for many, many years.
Since being vegan and vegetarian usually means a lot of veggies, you can be sure there's a lot of chopping, dicing and cutting going on in the kitchen. A wooden cutting board is a great way to give them something practical they will use often to make their time in the kitchen easier and more enjoyable. Plus, you're also giving something beautiful. Thanks to the exquisite craftsmanship, rich colors and natural grains of the wood, our wooden cutting boards make any kitchen look better.
And since you always want your gift to be personal, giving a gift that really speaks to their lifestyle and will enrich their daily life is a great way to start. But New Hampshire Bowl and Board can help you go beyond that with personalized wooden gifts, like a personalized wooden bowl or personalized wooden board, that have a special message added by hand. All courtesy of our very own calligrapher. With this special touch, the gift you give to the vegan or vegetarian you care about will truly be one-of-a-kind. from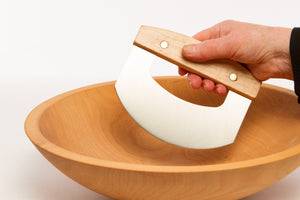 EZ Hold Wood Chopping Bowl and Mezzaluna 12" (Serves 4)
from $ 129.99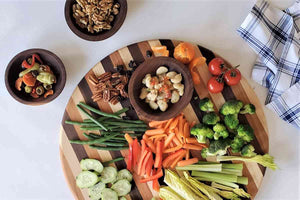 Charcuterie Large Round Board
from $ 99.99