The secret to conditioning your wood salad bowl, cutting boards or wood spoons is not mystery oil, bees wax or even our specially formulated Iddo Kimball's Wood Rub. It's a microfiber cloth, 10x more effective than using cotton or your bare hands.  Microfiber is among the world's softest fabrics, yet incredibly strong and universally recognized as a superior cleaning cloth.  Lint free microfiber is perfect for saturating with mineral oil or Wood Rub and then applying to your wood bowls and boards to nourish the wood and add a protective layer.
If you are still using cotton cloths, you will love our microfiber – buy it pre-seasoned for convenience or follow-our directions to make your own "Bowl Man's Secret Weapon."
How I discovered Microfiber for my bowl and board seasoning cloths
In the beginning, microfiber was called "ultra-suede" one of the first successful synthetic fabrics. Back in the Dark Ages of the 1980'S, I was skiing in an ultra-suede jacket one warm spring day, and there was grease dripping off the chairlift pulleys.  Washing the jacket incorrectly left me wearing my old Green LL Bean jacket.  And, yes, I chopped up the ruined jacket and began using it for rags.  And that was my discovery of the perfect seasoning cloth.

Is Microfiber environmentally friendly?
Microfiber is synthetic – a blend of polyester and nylon -- yet it is arguably better for the environment because it lasts longer than cotton, needs less water to be washed clean, dries 3x faster, and microfiber absorbs dirt more effectively than cotton.  Plus, it uses less water in the manufacturing process.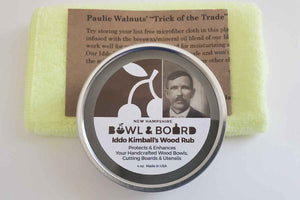 Wood Conditioner Lasts 4 Times Longer (Free Secret Weapon)
from $ 16.99 from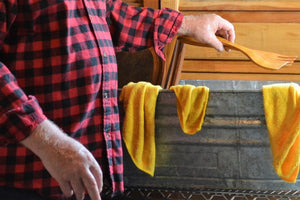 Microfiber Our Secret Weapon for the Best Wood Care
from $ 4.99