The first question you may be asking is, "what is a charcuterie board and why would someone want it as a gift?" Charcuterie is the art of preparing meats and it goes back a while, originating from the need to preserve meat before refrigeration. Over the years, it's meaning has transformed into something much more – and this practice has become very popular in elegant restaurants across the world.
Meats, along with other things like cheeses and nuts are served on a wooden charcuterie board. This is a wood board specifically used to prepare and serve the meats and other delicacies. Sampling and savoring these foods on a beautiful wooden charcuterie board makes it feel less like a snack and more of a special event. Which is why more and more people are bringing this cherished culinary art into their own homes.
And it's why charcuterie boards are on our list for the year's most original and soon-to-be most popular holiday gifts.
For one thing, giving someone a handmade wooden charcuterie board for Christmas or the holidays is an easy way to make sure your gift is unlike any other. It's fun, elegant and totally unique. A wood charcuterie board is the gift they never expected but once they use it, they'll never want to be without.
Plus, if you really want to make it personal, you can give them a personalized charcuterie board with their name, a date or another meaningful message on it in calligraphy, done beautifully by hand. It's one of the best personalized gifts for Christmas and you won't find anything like it anywhere else.
In addition to being original, the right charcuterie boards are crafted by hand using premium hardwoods for a look and style that feels both rustic and modern. A well-made wooden charcuterie board is utterly gorgeous to look at and makes the perfect accent piece for someone's kitchen or table. And when savory meats and other treats are added, your gift of a wooden charcuterie board can help them take any occasion to the next level.
And there are so many occasions that would benefit from a wood charcuterie board. From bustling dinner parties to casual Sunday brunches, when the charcuterie board makes an appearance, everyone stops what they are doing to share in its offerings. Not only does everything prepared on the board feel more special – so does everything around it. Giving a charcuterie board as a gift is like giving someone the power to turn the mundane into marvelous.
With a variety of shapes and sizes to choose from, you can give the perfect charcuterie board whether they have large families or gatherings or tend to keep things low key. They also come in different woods for different tones and grains. Some charcuterie boards even come with tools for preparing and serving the meats and cheeses.
Gifting to a vegan or vegetarian? No problem. Just because these were originally created to serve meats, modern charcuterie boards can serve whatever you want –and they'll do it in style. Cheese boards, veggie boards, bread boards, the possibilities are endless. They can also be used for much more than serving. Thanks to the high quality of craftsmanship and woods, you can use them to slice and dice during cooking or use as serving surfaces for bigger dishes, especially when they are hot.
But the best thing about giving someone a wooden charcuterie board for Christmas is knowing that you're giving them a gift they will get years of pleasure from. With so many uses and such meticulous workmanship, these US-made wooden charcuterie boards will be used over and over again. And the more they use it, the more they'll love it. In fact, your gift of a wooden charcuterie board (especially a personalized charcuterie board) could one day become a treasured piece passed down within their family.
So, this holiday, leave the tired gifts on the shelf and put something original, functional and beautiful under the tree. Give them a wooden charcuterie board and make sure they'll remember your gift forever. from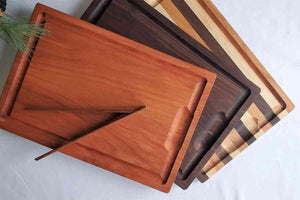 Personalized Charcuterie Board Choose Cherry, Walnut, or Multi-wood
from $ 109.99
Shop all Wood Gifts for Christmas