Here are the best New Hampshire wedding gifts for making sure the happy couple will be singing your praises long after the wedding day as they continue to enjoy your New Hampshire gift throughout their marriage.
Your New Hampshire Bowl and Board wedding gift will jump start the couple for their life together.  Engrave you wood bowl or wood carving board for a custom gift for the wedding couple, one that will give years of pleasure.
If you put together a list of the most-commonly given wedding gifts, you'll find yourself staring at tall towers of toaster ovens, mountains of crystal and a hefty bounty of blenders. As we near peak wedding season, we're here to help you break through the monotony of boring registry gifts with our beautifully handcrafted wooden salad bowls, cutting boards and utensils. Because if you are like us, you believe a gift should be more about checking off a requirement. Your gift should wow, delight and always make a lasting impression. Give one of these and it will.
Wooden Salad Bowls
We're not going to lie, we're crazy about salads. But it's not just the freshness of the veggies, the colors or beautifully-blended dressings that we love. It's about the togetherness that salad exemplifies. A handmade wooden salad bowl sitting in the center of your dinner table perfectly represents the sharing of two people, the closeness of family and the importance of close friends. It symbolizes a life of love that is made better with each other. Like every wooden bowl, board and utensil we make, our wooden salad bowls are handmade here in the US by hardworking New England craftsmen for exceptional quality/attention to detail and the unique grain found in every piece of wood makes each bowl one-of-a-kind. And rest assured, we use only the finest premium hardwoods so your thoughtful gift will last and last, making it truly unforgettable.
We also offer best-selling chopping bowls for outstanding chopped salads.
Wooden Cutting Boards
When people ask us what the best gift for a wedding is, one of our first answers is always a reliable wooden cutting board. Some of our best memories are made in the kitchen and kitchen table and giving someone a place to prep meals daily and even serve them, makes for a grand gesture they will appreciate time and time again. It's why our wooden cutting boards and wooden butcher blocks are best-selling wedding gifts. Handcrafted like our wooden salad bowls, they come with professional features that will aid every holiday meal and make serving large parties a breeze. If your particular newlyweds are into cooking and entertaining, a wooden cutting board is a great and unique wedding gift idea. Plus everything we sell comes pre-seasoned with our food-safe formula so the only thing they need to do is enjoy.
Wooden Cheese and Serving Boards
Especially handy for new couples sharing a new space together, as dinner parties with friends are usually the norm. Our wooden cheese boards and wooden serving boards are crafted from rich, strong wood and feature all the perks that make serving so easy and elegant, making every social gathering more special. It's such a fun gift idea, you'll score big points from the newly married couple, especially when they break it out during your next visit.
Wooden Utensils
Like a strong bond between two people who love each other, the right wooden spoon or wooden spatula can become the core of your kitchen and the many memories made there. We know many people who have received wooden spoons when they were married who are now using the same spoon or spatula to make cookies and spaghetti sauce for their grandkids. Don't underestimate the awesome power of people who cook together, building recipes and forging traditions that will serve as strong family foundations. Our wooden spoons and wooden spatulas are handmade using the finest woods and designed for both left handed and right handed cooks. If you know the two people getting married use different hands, get them both for a thoughtful gift that will make them smile and keep them cooking together for a long time. These wooden utensils are also available in gift sets to perfectly please.
Wedding Gift Sets
Don't want to overthink it? We've already done the work for you and collected our best-selling and most popular wooden bowls, boards and utensils into amazing wedding gift sets. All perfectly paired, pre-seasoned and ready to go. We've got a variety of options with several sizes and styles to choose from so you'll be able to find the right gift at the right price. These beautiful wedding gift sets also make great anniversary gifts.
There is no doubt that whether you're celebrating someone's big day or special milestone, they will absolutely adore the thoughtfulness, fine quality and beauty of our wooden wedding gifts.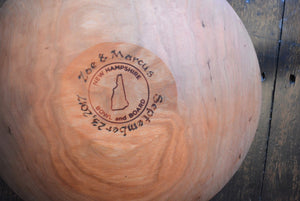 Personalized 15" Cherry Wood Salad Bowl Gift
from $ 199.99 $ 239.99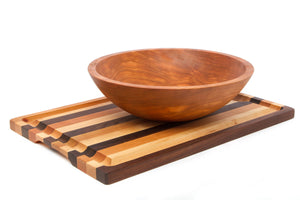 Cut Carve & Serve Board with Cherry Bowl - NH Bowl and Board Exclusive
from $ 209.98 $ 269.98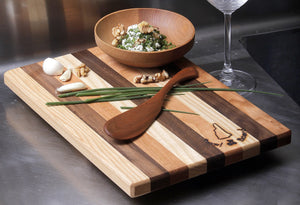 Best Affordable Anniversary Wedding Wood Gift with Free Spreader
from $ 64.99 $ 79.99