My wood salad bowl if full of ribbons of colorful squash.  A vegetarian palette of a salad. Summer is well on its way when the first summer squash appear in the garden.
  I pickled red onion from the Farmer's Market (mine is a long way from ready for picking much less pickling) in white wine vinegar and a few capers.  It looks pretty in my wood salad bowl, and is a great salad for a hot summer night.  Simple to prepare. No cooking required!
Salad for four:
1 each: medium zucchini, yellow squash and carrot thinly sliced lengthwise on a mandoline
3 T white wine vinegar and twice as much olive oil
1 T capers, rinsed
salt and pepper to taste
1/2 medium red onion, thinly sliced lengthwise for nice slivers
Basil leaves, torn or shredded
Thinly slice the red onion and soak in the white wine vinegar to mellow, about 30 minutes.  Add the vegetables, capers, and salt and pepper.  Refrigerate and let stand for several hours to allow the vegetables to soften and the flavors to mingle.  Serve with torn basil leaves.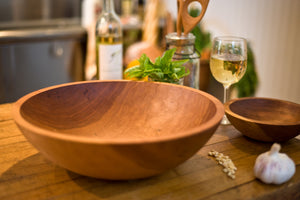 Cherry Wood Salad Bowl 12" (Serves 4) Free Shipping
from $ 129.99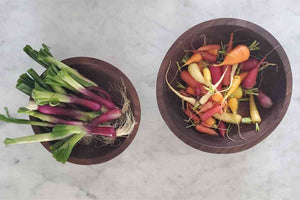 Salad and Serving Bowl Walnut 8"
from $ 59.99 from