My wood salad bowl is filled with summer's bounty by way of a simple caprese salad.  Tomatoes right off the vine.  Basil plucked from the garden.  Fresh, simple and delicious.  This is one of the easiest salads to make for summer entertaining.
Recipes abound.  I recommend about half of a tomato per person, or more, for a meal sized salad. This caprese salad is shown on a bed of arugula.
Alternate slices of tomato, mozzarella cheese and basil.  Top the salad with oil and vinegar or a simple vinaigrette.  What could be more delicious on a hot summer evening.
It's fun to serve a salad like this on a cutting board - let company serve themselves!
And let's mix it up.  Add some olives, use yellow tomatoes and crumble your mozzarella for a casual presentation sure to please your guests.
Simple Vinaigrette
1 part red wine vinegar 
3 parts olive oil (or less to taste)
pinch of sugar
salt and pepper to taste
Add to a jar and shake, or mix in a bowl with a fork.  Mustard in an emulsifier, so for a slightly thicker dressing, add about a 1/2 t. of mustard.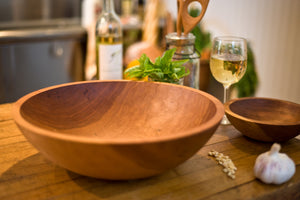 Cherry Wood Salad Bowl 12" (Serves 4) Free Shipping
from $ 129.99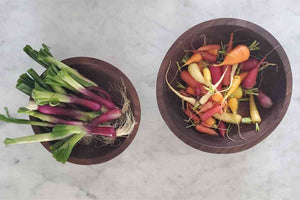 Salad and Serving Bowl Walnut 8"
from $ 59.99 from