Seasoning  
Seasoning wood items used for preparing or serving food is an important aspect
of keeping them in optimal condition. When you first purchase a wooden bowl, for example, season it every day for a week, then once a week for the next three weeks, then every month afterward. When it appears dull or feels dry to the touch, it needs seasoning. Purchase a good quality wood preserver or food-quality mineral oil at the pharmacy or grocery store. Mineral oil is inexpensive and will not go rancid as cooking oils may. The bowl (or board) should be dried out thoroughly first. Soak the bowl liberally with the mineral oil, let it soak in for 5 minutes to several hours. Just wipe off the oil and use the bowl as usual.
Wooden Bowls Are Easy to Restore and Maintain!
In an effort not to damage wood bowls or other wood serving items or utensils, many people tend to be overly careful about not soaking them in water or scrubbing them too vigorously with soap and water, fearing they will dry out the wood. Consequently, I have seen many wooden bowls and utensils at flea markets and yard sales that are a bit sticky to the touch; inside or outside (often the reason people are trying to get rid of them).
Fortunately, there is an easy fix for your problem. Simply immerse the bowl or wood item in warm water and dish soap. Scrub the bowl (or item) with a nylon scrubber sponge, rinse thoroughly with hot water, and dry immediately with an absorbent dish towel. If the exterior of the bowl still feels a little tacky or sticky when dried, scrub the surface again in HOT water and dish soap, rinse thoroughly with hot water.
After the dried bowl has been allowed to air-dry for an hour or two, the interior or exterior may seem a little dried out from the scrubbing. If so, use some fine steel wool (No. 0000) and Bowl and Board Rub or good quality wood preserver to gently "scrub" the bowl inside and out. Then buff it vigorously with a soft, clean rag. The idea is to get a little of the Bowl and Board Rub worked into the surface of the wood to nourish and protect the wood. The wood should end up with a nice glow. But if it's shiny, greasy/slippery to the touch or sticky, you need to keep buffing a bit more.
Cleaned thoroughly after each use and oiled and buffed occasionally, your bowl should hold up for another century or two.
Wooden bowls, boards and utensils are a great addition to the kitchen. Wood is naturally anti-bacterial so cleansing and sanitizing these items occasionally helps control the amount of bacteria that can grow on the wood. Despite popular belief, the porous surface of wood actually deprives the bacteria of the warmth and moisture needed to survive and bacteria actually die on the surface within seconds.
Cleansing
Hand washing is the best way to care for your woodenware. Never soak them in water for too long to prevent splitting or cracking. Use warm water and mild soap to wash the surface. This will cleanse the exterior without subjecting the wood to elements that will destroy the material. Never put wood items in the dishwasher or in the microwave oven.
Sanitizing
Sanitizing wooden bowls and wood utensils helps to control bacteria growth. White vinegar works wonders. Mix 1 part white vinegar with 5 parts water, wet the bowl thoroughly and allow the solution to do its job for several minutes. Rinse the bowl with warm water and let it air dry.  Or fill a spray bottle with a 50-50 mix of white vinegar and water, and spritz as needed, wiping off the excess with a clean towel.
Damage Repair
If your wooden bowl feels fuzzy to the touch, the grains of the wood are raised and will benefit from a hand sanding. Grab some 400 to 600 grit sandpaper or steel wool and rub the damaged area lightly until smoothed out. Wash out the bowl and dry as usual. A brown-paper bag will even work in place of the sandpaper if you do not have any handy. If your bowl gets a dent, start with a coarser sandpaper, and progress to finer grits slowly, 80, 100, 120, etc. until the area is smoothed out. Wash and dry as usual after the area is fixed. Don't forget to season your bowl after sanding.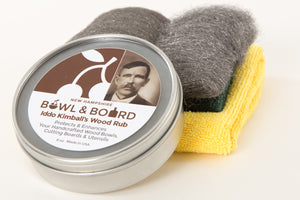 Wood Rejuvenating Kit - Wood Care for Neglected Bowls and Boards
from $ 34.99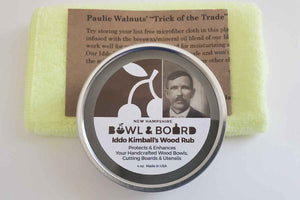 Wood Conditioner Lasts 4 Times Longer (Free Secret Weapon)
from $ 16.99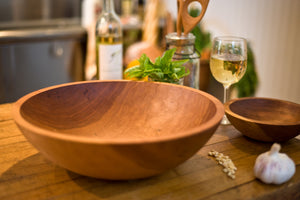 Cherry Wood Salad Bowl 12" (Serves 4) Free Shipping
from $ 129.99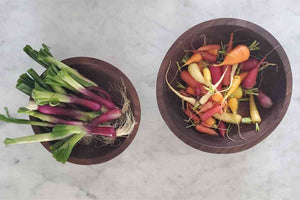 Salad and Serving Bowl Walnut 8"
from $ 59.99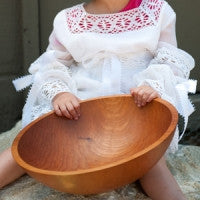 Large Cherry Wooden Salad Bowl 15" (Serves 6-8)
from $ 199.99 $ 239.99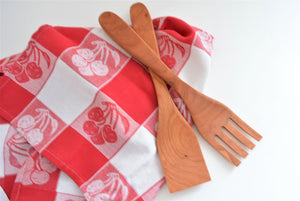 Wood Salad Servers for 12" and 15" Bowls
from $ 29.99 $ 34.99