Summary of non-toxic finishing products for wooden bowls and wood cutting boards:
After scores of conversations with chemists, regulatory agencies, finish manufacturers, finishing experts, and woodworkers, I found that there are a few finishes that everyone agrees are food safe. In the welter of contrary opinions about which finishes are food safe and which are not, a few naturally derived, unblended, no-hidden-ingredients, certainly nontoxic finishes stand out.
Pure tung oil. Extracted from the nut of the china wood tree. Used as a base in many blended finishes. Available from catalogs and hardware stores. Difficult to apply, requires many coats, good water-resistance.
Raw linseed oil. Pressed from flax seeds. Not to be confused with boiled linseed, which contains metallic driers. Listed as a food additive by the Food and Drug Administration (FDA). Very long curing time, good looks, low water-resistance, frequent reapplication.
Mineral oil. Although derived from petroleum, it is colorless, odorless, tasteless and entirely inert. Sold as a laxative in drug stores and as a wood finish in hardware and kitchen-supply stores. Simple to apply, low water resistance, frequent reapplication.
Walnut oil. Pressed from the nuts of the walnut tree. Sold as a salad oil in health food stores and in large grocery stores. Walnut oil dries and won't go rancid. Easy to apply, frequent reapplication.
Beeswax. The work of the honey bee. Can be mixed with an oil to create a better-smelling, slightly more water repellent finish. Sold in woodworking and turning catalogs.
Carnauba wax. Derived from the Brazilian palm tree. Harder than beeswax and more water-resistant. Can be used straight on woodenware as a light protective coating or a topcoat polish. Sold in woodworking and turning catalogs.
Shellac. A secretion from the lac bug. Harvested in India. Super blond shellac in flake form is the most water resistant variety. A film-forming finish. Sold in woodworking catalogs and hardware and art supply stores.
Nothing. Available everywhere. Makes a reasonable finish for woodenware. No application time. Free.
A recipe for one sweet finish
The food-safe finish that appeals most to me is a mixture of mineral oil and beeswax. To make it, warm the mineral oil in a saucepan over low heat, an add a chunk of beeswax equal to about one-fifth or one-sixth the volume of the oil. (At high heat, there's a potential for fire. Be sure to keep the heat low, and consider using a double boiler). As the wax begins to dissolve, stir frequently. When the mixture is blended, pour it into a jar to cool and solidify. To apply, wipe on an excess of the soft paste, let it dry a bit, then wipe it off. If you want to apply it as a liquid, you can reheat it. Like any mineral oil or wax finish that will take a lot of abuse, this one will need to be reapplied often to afford decent moisture protection. But applying this fragrant finish is such a pleasure that you may find yourself looking forward to the task.  Or buy our Iddo Kimball Wood Rub for the same great results. No double boiler required.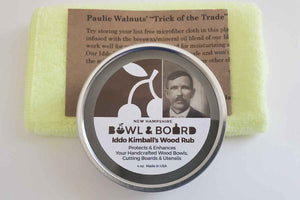 Wood Conditioner Lasts 4 Times Longer (Free Secret Weapon)
from $ 16.99 from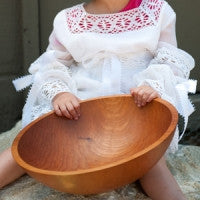 Large Cherry Wooden Salad Bowl 15" (Serves 6-8)
from $ 199.99 $ 239.99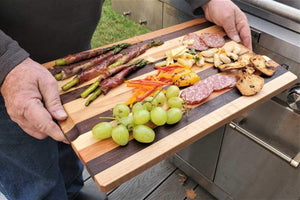 Wood Cutting Board Famous Design Hides Knife Marks
from $ 109.99