The art of the charcuterie board is in the selection of the offerings, and not in the complicated layout or complexity of selections chosen by a TikTok influencer, rather than an actual charcuterie fan or cheese lover.
And a hospitable welcome by the host and the conversation of a convivial gathering of friends or family members will make a lasting impression beyond the origin of the cheeses and meats. 
Use these six tips to compose a charcuterie board with a balanced offering that might include one or two selections from each of these groups:
Salty and rich
Start with cured meats and aged cheeses like Parmesan, pecorino or cheddar or gouda. Add smoked salty almonds. Even ritz crackers or potato chips!
Creamy
Let loose with the soft cheeses, blue or gorgonzola, a rich triple sec or brie, goat cheese, flavored butters, or a creamy dip for those potato chips or crudites.
Crunchy and fresh
A few raw crudites won't go amiss. We like radishes for the crunch, and blue cheese filled celery sticks for a retro vibe.
Pickled, sour or spicy
Cornichons are the classic but kimchi or dilly beans will do the trick as well.  Any pickled shallot, onion or vegetable. Think outside the box with a spicy salsa.
Carbs!
Slices of bread of course, crackers, pretzels, tortilla chips, those potato chips…whatever will best serve as a vehicle for your cheeses or dips.
Sweet
Fresh or dried fruit fill the bill here. Grapes, pear, or apple slices. Dried apricots. Candied nuts. A jammy spread. Perhaps chocolate dipped strawberries for a sweet ending.
Choosing Your Charcuterie Board
Our cheese and cutting board will easily serve 6-8 while our larger board or Lazy Susan will easily serve a crowd.  Why buy a huge charcuterie board for a one-time use when you can set your table with a variety of bowls and boards for a shareable feast!
About New Hampshire Bowl and Board
Our Made in the USA wood bowls, charcuterie boards and Lazy Susans are designed for beautiful presentations on your table and special occasion gift giving.  Paulie the Bowl Man is a real person (not always camera ready). But call him and he will be pleased to hear your voice and chat about cheese, salad and charcuterie.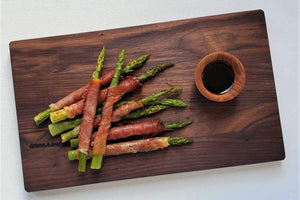 Walnut Cutting Board for Cheese and Charcuterie
from $ 74.99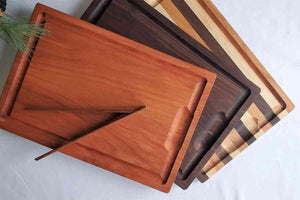 Personalized Charcuterie Board Choose Cherry, Walnut, or Multi-wood
from $ 109.99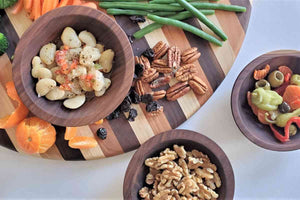 Wood Lazy Susan for Charcuterie and Cheese
from $ 129.99