Your charcuterie board doesn't have to be bigger to be better.  And you don't have to be a professional food stylist to present a tik Tok or Instagram worthy arrangement to wow your family and friends when you entertain.
Bowls are Handy Helpers 
Use your wooden bowls either on the board for visual interest or off the board to expand your presentation/arrangement.  Either way, small bowls will hold lots of bits and bobs – olives, jammy spreads, nuts, mustard, pickles, dried fruit – and they'll keep juicy fruits or pickle juice where they belong.  Make your board larger and server friendly with small bowls.  And what better than a larger bowl to hold bread, crackers and salty snacks?
Leftovers Aren't Just for Lunch
Don't limit yourself to cheese and charcuterie when entertaining.  Cold sliced steak, shrimp cocktail, and chicken wings have a welcome home on a dinner, lunch, or grazing board anytime.  Don't forget to cook extra for a second meal!  You'll be glad you did.
Serving Accessories are Necessary
Always include an assortment of handy cheese tools. They don't just look good on your board, they are very versatile as well. For an easy grazing board, don't forget the serving utensils - small forks, serving tongs, cheese tools, spoons, and knives.  You may want your charcuterie to be finger-licking good, but pass the napkins -  and the cheese knives -  please!
Two Boards are Better Than One 
You don't need to buy the biggest, most expensive board to show off or feed a crowd.  Use some combinations of boards, bowls and lazy Susans on your table or counter for even the largest crowd.  And by the way, why wait for your next fancy gathering to show off your best serving boards?  Serve your family on a party ready showpiece.  Even your leftovers will look tempting.
The Cocktail/Mocktail Pairing 
The drink is as important as the charcuterie presentation. Why not a punch, alcoholic or not, to accessorize your efforts. Wine and beer are classics with cheese and charcuterie respectively. Level up by serving a kir royale with its fruity cassis to complement your appetizers.  Any flavored Selzer, spritz or Hawaiian punch bowl is a welcome drink pairing with your charcuterie board.
About New Hampshire Bowl and Board – Our Made in the USA wood bowls, charcuterie boards and Lazy Susans are designed for beautiful presentations on your table and special occasion gift giving.  Paulie the Bowl Man is a real person (not always camera ready).  Call him and he will be pleased to hear your voice and chat about cheese, salad and charcuterie.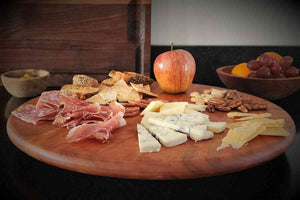 Lazy Susan Cheese Board

from $ 159.99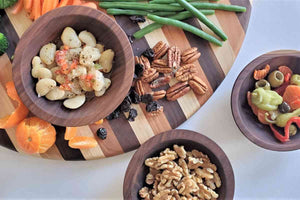 Wood Lazy Susan for Charcuterie and Cheese

from $ 129.99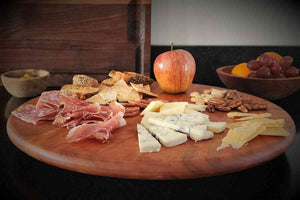 Lazy Susan Cheese Board

from $ 159.99