With modest care and attention, your hand made wooden ware should last for a lifetime, and more!  Premium hardwoods are naturally durable, resistant to bacteria growth...and are most forgiving.  A few simple steps will help preserve your treasure of a wood bowl, board, spoon or utensil for a lifetime of pleasure and keep it good-looking as well as food-safe for food prep and serving.

Wooden Bowls - Hand wash with warm water using a mild dish detergent. Hand dry.  An occasional hot water washing is just fine and will, for example, help eliminate the lingering odor of garlic from your salad bowl. So will running the cut surface of a lemon half over the surface.
When dry to the touch, or about once a month, apply an application of our all-natural Bowl & Board Wood Rub or similar application of food-quality beeswax and mineral oil to prevent wood from cracking or splitting. The mineral oil moisturizes the wood and the beeswax helps lock in the moisture, while adding a subtle sheen.
Best not to place your wooden ware in the dishwasher or leave sitting or standing in water as this can lead to splitting and cracking.
Wood Butcher Block Bowls and Chopping Blocks - The block construction of these bowls and boards will welcome the same care as you give your wooden bowl.  Hand wash in warm, soapy water.  Towel dry. The block construction will also appreciate a more frequent application of mineral oil or Bowl and Board Wood Rub.  The same construction technique that dazzles with its unique graining also means there's more end grain to absorb moisture.  Be extra careful not to let sit or stand in water as this can weaken the joinery.  Add moisturize to the wood and create a protective barrier with beeswax or Bowl and Board Wood Rub.

Wood Cutting Boards - Hand wash and dry. About once a month, or more often when the wood looks dull or feels dry to the touch, nourish the wood and add a protective coating by applying a high quality wood preserver like our Bowl and Board Wood Rub.   Wood is naturally resistant to bacteria!  As needed, however, disinfect with a 50-50 mix or vinegar and water.  You can fill a spray bottle and spritz as needed and wipe off the excess with a clean towel.   If stronger measures are required, perhaps after cutting chicken, chlorine bleach and water (a 4:1 ratio) will knock out those pesky germs.

Wood Spoons & Utensils— Hand wash in warm, soapy water and towel dry.  Daily use in the kitchen may require a more frequent application of Bowl & Board Wood Rub or good quality wood preserver to replace moisture and create a protective layer.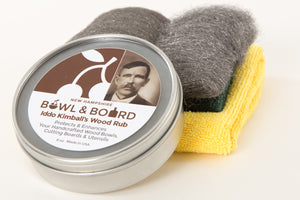 Wood Rejuvenating Kit - Wood Care for Neglected Bowls and Boards
from $ 34.99