Ah summer - a time of beach days, backyard barbeques and, of course weddings. Whether you love them, hate them or simply tolerate them for the bacon-wrapped shrimp and open bar, knowing the dos and don'ts to wedding gift giving will spare you the stress and embarrassment from making a blunder that some people will remember forever. Follow these four easy rules and make your gift grand and your life easier.
 
Rule #1: It's the thought that counts, so think smart
 
How close are you to the bride and groom? Are they young and just starting out or are they a bit older and more established? Do you want your gift to be personal or practical? All of these factors are important to keep in mind when choosing a wedding gift. Even after you've assessed all this, you still may not have a clue what to give - but there's no need to fret. A good wedding gift usually falls under 4 categories. Pick one of these, use your head and you'll be covered.
 
Picking Off the Registry
If you have no idea what to give or don't really have the time to figure it out, it doesn't get any easier than the registry. Most couples will set up a registry online where they tell you what to get them. Pick something, pay for it. You're done. The items can be anything from napkin holders to flat screen TVs. Unless a couple is extremely picky or high end there are usually a wide variety of price ranges to choose from that will accommodate anyone's wallet.
 
Bath/Bedding, Kitchen and Entertaining
The ultimate wedding gift standard – and that's not a bad thing. Bath and bedding (towels, sheets, comforters), kitchen tools/appliances (blenders, toaster ovens, coffee makers) and entertaining pieces (dinnerware, crystal, silverware) have been popular gift choices for decades – and still are. Traditionally these were great gifts because couples were sharing a new home for the first time. These days, some couples already live together before getting married but these essentials are still a wonderful way to help celebrate two people starting a new life together
 
Unique or personal gifts
If you're really close with the bride or groom you might feel your gift needs to surpass those of the common and ordinary. This can be a beautiful gesture, if you choose your gift tactfully. The last thing you want is the couple left staring at your gift and scratching their heads.
 
One personal touch is to make your own gift. However, if you're planning on doing that, first make sure it's something you can pull off and then ask yourself if it's something they really can use or will truly cherish.
 
Sometimes all it takes to make a gift deeply personal and unique is adding your own special touch. I know someone who gives a handcrafted wooden salad bowl to everyone who gets married. The bowl itself is gorgeous but what makes it even more special is the hand written note they send it with. The note contains a beautiful poem that reminds the couple that on their new journey, this bowl is always there for them to share a meal together, in the good times and the bad.
 
And remember, no matter how personal your gift may be, it's always in good taste to make sure your gift is geared towards the bride and the groom, not one or the other.
 
Money talks
There is nothing wrong with a little cold hard cash to send your best. Some people might feel it is not personal enough but I doubt you'd be able to find many couples disappointed by a crisp check. Your generous gift can help them build the funds to put a down payment on a house, pay for the honeymoon or even help pay for the wedding expenses. Plus as an extra bonus, it's less hassle for you.
 
Rule #2: Spend wisely
 
When you're deciding how much to spend on a wedding gift, a lot depends on your relationship with the couple, the area they are getting married and of course, your own economic status. Generally, a good rule of thumb is at least $50. If it's family or friends, $100 is the sweet spot. And if it's close family and friends you're usually looking around $150. Some areas dictate more but it's your call whether you want to adhere to those standards.
 
If you're strapped for cash, just do the best you can. Most couples are just happy to get a gift. However, if you really want to give something more substantial, you can always join together with friends and give a group gift.
 
Rule #3: Do your homework
 
There are a lot of mixed opinions about when to give a wedding gift. It always made sense to me that if I was going, I was bringing a gift. If I wasn't, I was sending one. Nowadays, more and more couples would rather you not bring gifts to the wedding. It can be stressful keeping track of them with everything going on and sadly, sometimes these gifts are stolen. I recommend contacting the bride and groom or the best man or head bridesmaid and find out what is preferred. I promise you they will appreciate you asking.
 
If you're bringing the present to the wedding, make sure the card is securely attached or inside a box since the gift will probably be moving from one table to the next to someone's car, etc.
 
If you're sending the gift, make sure to send it promptly after the wedding. These days, the accepted time frame is within 3 months after the wedding. Some still believe you have a year to give a gift but I don't recommend taking that long. A year is a long time to wait and couples usually want to get their thank you cards out as promptly as possible.
 
 
Rule #4: Stay cool, don't stress
 
This may be the most important rule to adhere to - at least for your peace of mind. Giving someone a gift should feel good. It shouldn't be stressful, cause anxiety or leave you in a cold sweat. Follow the rules above; keep things in perspective and your experience of choosing a wedding gift will be an enjoyable one.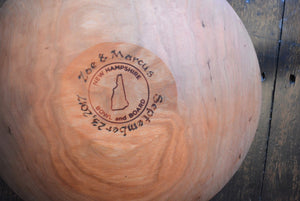 Personalized 15" Cherry Wood Salad Bowl Gift
from $ 199.99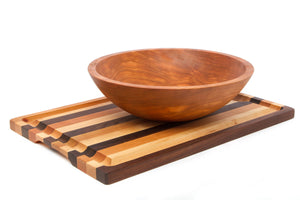 Cut Carve & Serve Board with Cherry Bowl - NH Bowl and Board Exclusive
from $ 209.98 $ 269.98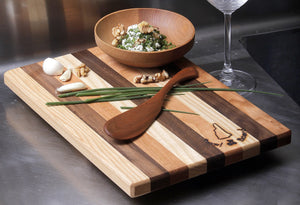 Best Affordable Anniversary Wedding Wood Gift with Free Spreader
from $ 64.99 $ 79.99