P
eople often wonder if it's ok to give someone a wedding gift that's not on the couple's gift registry. The answer is yes absolutely. Gift registries are meant to be suggestions for your consideration.  It's wonderful if you find the perfect gift on the registry, but when you don't, your own thoughtful choice is always appropriate.
A gift registry is often made up of  practical items that will help two people start their new life together, such as dinnerware or small appliances, and will give you an idea of what a couple needs. They are also a useful guide to a couple's taste, and may give you clues as to whether to choose something "contemporary" or "traditional."
If you're going to stray from the registry, you'll want to make sure your gift will be appreciated, useful and remembered.
That's why you can't lose with beautiful handcrafted woodenwares like a wooden salad bowl, or a set of wooden spoons. It's both personal and thoughtful and it's one-of-a-kind so it's always memorable. And since a registry is meant to help a couple start their new life together, there is no better way to do this than with a gift they will use every day and cherish forever.
Wooden Bowls for a Wedding Gift
Whether it's to serve food, hold fruit, jewelry and other items, or simply to decorate the home, a handcrafted wooden bowl is a beautiful way to show the happy couple how happy you are for them. Every time they look at the bowl or put something in it, they will remember your thoughtfulness and generosity.
Wooden Salad Bowls for a Wedding Gift
What better way to celebrate the union of two people then with a gorgeous handcrafted wooden salad bowl for sharing meals and conversation. The gift of a large wooden bowl with wooden serving spoons also allows them to easily entertain and serve friends and family when hosting dinner parties or get togethers.
Wooden Spoons for a Wedding Gift
Most registries list small kitchen appliances and dinnerware but the most important tool in the kitchen is the wooden kitchen spoon, so let them remember you with every stir, scrape and scoop. Our wooden spoons are food-safe to ensure good health and handcrafted from the highest quality wood to last a lifetime­. Your gift may someday become the heirloom they pass down to their kids many years from now.
Wooden Cutting Boards/Butcher Blocks for a Wedding Gift
Nothing ties a kitchen counter together better than a beautiful wooden cutting board. Nor will they need to search for multiple ways to use it. Your gift will be used to prepare almost every meal from breakfast to dinner, as well as, give their kitchen a look they'll love and appreciate. Their wooden cutting board or butcher block can also double as a serving board, making the perfect cheeseboard for parties or a snack plate for two while watching a movie. Plus, a strong handcrafted chopping board made with high quality wood and seasoned properly will last forever, so they'll keep enjoying it year after year.
Wooden Kitchen Utensils for a Wedding Gift
Looking for a no-brainer gift? Give them a set of complete kitchen tools featuring wooden spatulas, wooden spoons and other must-have utensils, crafted by hand from the finest New England wood. Guaranteed to be one of their favorite gifts, not only will they use them every day while cooking or serving, the minute they feel the smooth handles and smell the rich, earthy tones, they'll understand just how special your gift is.
If you not entirely sure what to pick or running low on time, our gifting experts have put together an amazing collection of wooden gift sets and wedding gifts specifically for occasions such as these. There are many to choose from and all are handcrafted and thoughtfully grouped together. One look at your gift and the happy couple will be glad you didn't adhere to the registry and instead decided to give them the most thoughtful, beautiful and memorable gift of all.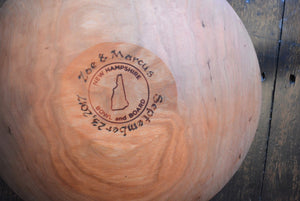 Personalized 15" Cherry Wood Salad Bowl Gift
from $ 199.99 $ 239.99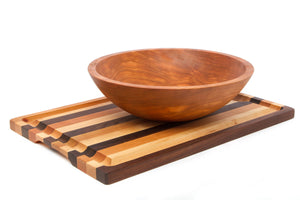 Cut Carve & Serve Board with Cherry Bowl - NH Bowl and Board Exclusive
from $ 209.98 $ 269.98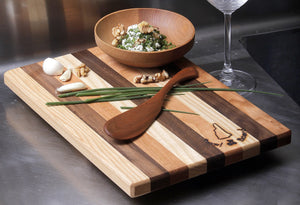 Best Affordable Anniversary Wedding Wood Gift with Free Spreader
from $ 64.99 $ 79.99