With the cold and dark of winter nights upon us, I'm hankering for richer flavors than the salads, crudites and fresh vegetables of my summer entertaining menu. Rich, creamy blue cheese, toasted walnuts and some good crusty bread made its way to my dining table the other night for a small gathering of friends.
Not quite sure where to start, I picked cheeses from three countries: an American Blue made with raw cow's milk; a German Cambozola, which is a cross between an Italian Gorgonzola and French soft ripened triple cream; and lastly, a French Roquefort.
The French Roquefort was the most assertive of the three and held its own with the glass of red wine I was drinking. The Cambozola, which was entirely new to me, was extra-creamy and mild for a blue; while the American blue was perfect slathered on some some crusty French bread. Normally I would have tasted three cow's milk cheeses or maybe a cow, a sheep and a goat cheese to compare and contrast.
When serving cheese, I tend to go with the classics. There's a reason blue cheese and pear go together so well. The mild acidity of the pear holds up nicely to the bite of the blue cheese. The crunch of toasted walnuts and pecans contrasts with the smooth creaminess of the cheeses.  Add a few crackers and good bread and serve on a wood cheese board, like the Black Walnut lazy susan pictured here. from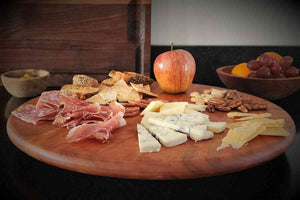 Lazy Susan Cheese Board
from $ 159.99 from