Salad Boot Camp is what I call my visit to the CIA. Not so long ago, I had the pleasure of attending the prestigious Culinary Institute of America's salad course. Armed with a chef's uniform (paper hat included), a huge book of recipes and of course a couple of my best wooden salad bowls and wooden salad utensils, I set out to discover the tips and techniques from top chefs on how to make a salad great.
Though I half expected to be let in on some secret chef handshake or encounter some madly eccentric chef who would throw food at us and scream both praises and insults with the same fervor, I quickly realized that the chefs there and the other boot camp attendees were a lot like me - someone who loves salads and wants to find out the secrets to making them better and even more memorable.
Salads have always played an important part in my culinary life. Consider that a salad is usually one of the very first things a guest will eat at your table, whether at home or in a restaurant. Some may call this the first course. I call this the first impression. And like they say, the first impression is most often the most important. You want to get it right, especially at the dinner table because it can set the tone for the entire meal.
Throughout the CIA course, I learned how to create some truly tantalizing salads beyond your average Caesar. I also learned that conventional beliefs on what makes a salad a salad is not always what you think. Stuffed, filleted, skewered or topped, the perfect salad doesn't have to have greens. There are lots of ways to make a salad. As long as it's packed with flavor, freshness and creativity, it will lend beautifully to parties, and social/family gatherings.
In true CIA fashion, we also sampled delicious wines while we dined and discussed how to determine the perfect wine pairings for salads. Understanding how to choose the right wine for your salad can help turn each bite into a sensory experience. It's amazing how much thought can go into pairing wine with certain foods. I have to admit, I am tempted to attend a course devoted to this specific subject.
My time at the CIA boot camp was priceless. Learning about salads from highly respected chefs took my knowledge to a whole new level. I didn't think it was possible but I gained an even greater appreciation for the beauty of a great salad. And though I have never doubted that my calling is to make the best wooden salad bowls and utensils, the course only served to further affirm this. Because despite the many ingredients, many foods and many styles we used to create masterpiece salads, the one thing all the salads needed to make them complete was a good wooden salad bowl. Seeing our beautiful salads sitting amidst the rich grains and deep tones of my wooden bowls made them gorgeous to the eyes and spurned a yearning for the taste buds. Needless to say, I made a few new friends. It was easy for us to agree that like the right wine, the right presentation matters.
When I got back from CIA salad boot camp, I realized I had learned so much, I wondered if I should change my name from Bowl Man to salad man. But as much as I love making salads, crafting one of a kind wooden salad bowls that will live on in people's families and traditions, well I love that a whole lot more.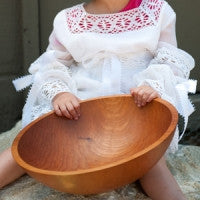 Large Cherry Wooden Salad Bowl 15" (Serves 6-8)
from $ 199.99 $ 239.99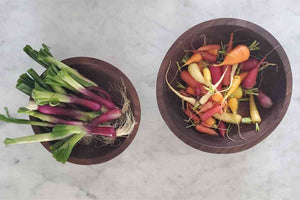 Salad and Serving Bowl Walnut 8"
from $ 59.99 from