The width and shape of your table are the most important factors in determining how big or small you Lazy Susan should be.  First, measure the width of your table using a standard tape measure or ruler.  Using the chart below, you should be able to estimate the best fit of Lazy Susan for your table. 
Most rectangular tables are 32" to 44" wide and a 16" Lazy Susan will allow for an easy reach plus room for place settings.  
| | | |
| --- | --- | --- |
|  Lazy Susan Diameter | Table Width (round) | Table Width (rectangular/square) |
| 12-16" | 36-42" | 36" |
| 16-20" | 42-48" | 44-48" |
| 18-24" | 45-52" | 48-52" |
| 24-28" | 52-60" | 54" |
| 36" | 66-72" | 72" or more |
| If a bigger size is required, use the above as a guide. | | |
Other factors to consider when choosing a Lazy Susan
Plate Size   An average dinner plate measures 12" in diameter, and the recommended spacing for a place setting is 15" - this can affect how much room you actually want to use in the middle of the table.
Type of meals you usually serve  Do you require room down the middle of your table for wine glasses, salad bowls or larger casserole dishes or platters?   Or do you have a buffet or separate serving table?   Knowing these things can help you avoid picking a Lazy Susan that is too big and unwieldy.
How much reach is comfortable for you  When seated, the arm reach of an average adult is 20".  Ideally you don't want to have someone reach further than 18" or the purpose of the Lazy Susan may be defeated!
Choose what's best for you  Of course, the most important factor in choosing a Lazy Susan is what works for you!  Regardless of our suggestions, let you own experience and preferences be the ultimate guide!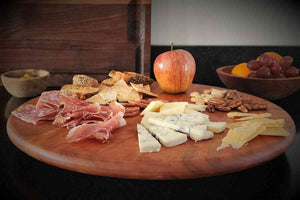 Lazy Susan Cheese Board

from $ 159.99 from from