The year was 1924. Jazz was in the air, giving voice to the joy that marked the end of the first World War. F. Scott Fitzgerald was hard at work on his latest book, "The Great Gatsby", and Metro-Goldwyn-Mayer had just been founded, taking for its motto "Ars Gratia Artis" ("Art for Art's Sake") and Greta Garbo for one of its stars. Young women traded Victorian corsets for slinky dresses in which they danced the foxtrot and tango till dawn, and Prohibition sent Americans south of the border in droves, in search of fine restaurants where they could again enjoy wine and spirits with their meals.
And in the Mexican town of Tijuana, the sudden rush of American patrons left the kitchen of Caesar Cardini's restaurant perilously low on supplies one night. Caesar improvised a new salad on the spot with the few ingredients he had left, and he gave the humble meal flair by assembling it table-side. Word spread, and soon even more Americans were flocking to Caesar's place—including a little girl named Julia Child, who later recalled, in the cookbook that made her famous, how "wildly-excited" her parents were to visit the restaurant.
"My parents, of course, ordered the salad," Julia wrote. "Caesar himself rolled the big cart up to the table, tossed the romaine in a great wooden bowl, and I wish I could say I remembered his every move, but I don't. They only thing I see again clearly is the eggs. I can see him break two eggs over that romaine and roll them in, the greens going all creamy as the eggs flowed over them. Two eggs in a salad? Two one-minute coddled eggs? And garlic-flavored croutons, and grated Parmesan cheese? It was a sensation of a salad from coast to coast, and there were even rumblings of its success in Europe."
Nearly a hundred years later, it's still de rigueur to prepare Caesar's salad in the "great wooden bowl" that captured Julia Child's attention—though the bowl we use now is likely to be toxin-free and recycled. (We proudly offer this version.) The romaine we use is often from our own gardens, and our parmesan cheese and eggs may be organic now—but one thing that hasn't changed is the table-side show. We still carry on Caesar Cardini's grand tradition, giving family and friends a dining experience that they, like Julia Child, will recall for years to come.
All you need to create that experience is your favorite Caesar Salad recipe (if you don't have one, we love the recipe below) and a little inspiration from YouTube. This video is rather dark, but it was filmed at the 1785 Inn in North Conway, New Hampshire, and shows true table-side preparation. Or you may prefer this demonstration by New York chef Pino Luongo.
And now that Prohibition is a thing of the past, feel free to enhance your Caesar with a special wine that can hold its own against the salad's intense flavors. Wine consultant Kareasa Wilkins recommends Les Cocques, a sauvignon blanc by Domaine Patrick Coulbois. Or you may prefer a vinho verde from Portugal, or a dry white wine like Chateau Doisy-Daene Grand Vin Sec from Denis Dubourdieu.
BOWL AND BOARD'S CAESAR SALAD
2 heads of romaine lettuce
1 clove garlic, finely chopped
1/3 cup or so of good quality extra-virgin olive oil (vary the amount to taste)
8 anchovy fillets, chopped (we like anchovies in a jar and packed in oil, so you can refrigerate what's left over for later use)
1 1/2 T Worcestershire sauce
1/4 teaspoon dry mustard or 1 teaspoon Dijon mustard (optional)
5-6 sun-dried tomatoes (oil packed), chopped finely (optional)
Freshly ground pepper to taste
Juice of 1 lemon
1 "coddled" whole egg (boil for one minute in water)
1/3 cup parmigiano-reggiano cheese
Preparation
Wash and drain the romaine, dry well, then tear it into pieces.
In a large, wooden salad bowl, crush the garlic with a pestle or the back of a fork (we use a heavy, vintage fork we found at a local flea market). Putting a bit of salt and pepper in the bowl will give you more traction while you're mashing the garlic.
Add chopped anchovy fillets, and mash well, followed by the Worcestershire, mustard (optional), sun-dried tomato, lemon juice, and yolk of the coddled egg (you can substitute a heaping Tablespoon of good quality mayonnaise).
Blend with garlic, mash the anchovies well, then swirl all of this around the sides of the bowl until the bowl is coated.
Using a fork, sparingly mix in the olive oil until well-incorporated. The dressing should appear "creamy." (Taste it to see if you have added just the right amount of olive oil. You'll know.)
Toss the romaine in the dressing until each piece is coated.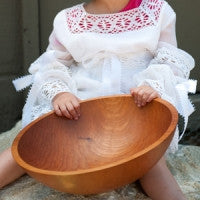 Large Cherry Wooden Salad Bowl 15" (Serves 6-8)
from $ 199.99 $ 239.99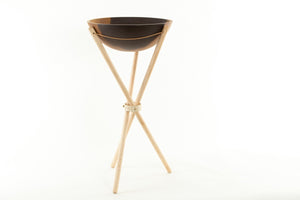 Salad Bowl Stand for Extra Large Bowls
from $ 119.99
Salad Dressing Mixer Bottle
from $ 10.99